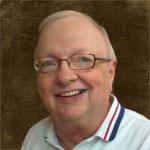 DJ (is actually my first and middle initial but (came about because of one pair of shoes I used to wear to class) is a name my students used as a nickname. My first name is Douglas but it was not one that I wished to continue using due to some connotations it had for me. I tried other nicknames but DJ has stuck and most of my friends use that now.
I was born in Ottawa in 1943 and have lived in Riverside (9 years), Amherstburg (9 years), London England (1 year), Edmonton (3 years), Kitchener (5 years), Waterloo (26 years), St Louis MO. (1 year), and Toronto (6 years plus). I was married in 1966. The first years of marriage were good ones and we had three sons. They are now grown and married and have children of their own. I spent many of those first years pursuing my career and working with the children (it seemed I was very heavily involved in their lives when they were young).
I left the marriage because of emotional problems my wife had had for a number of years which caused three pastors I consulted as well as two counsellors my wife and I had seen together to deal with our problems to suggest I had to get OUT of the marriage.
I quickly became friends with a man 15 years older than myself. He died a year later of cancer (mercifully very quickly) and I praised the Lord for having a year of freindship with him. He was Quaker and I was MCC at that point and so we would often go to both churches Sunday morning.
In 2004 I was headed to Asia and advertised that I would like a guide to show me their country. After about 9 months of corresponding I met Arnold who showed me the Philippines. He and I remain close friends. I have returned to the Philippines in 2005, 2006, and 2007.
As for my church work. I was raised in the United Church of Canada and was active as a cub master, Sunday School teacher, Elder, and building committee member (I preached at the one year anniversary of the new building too and have been back to the 40th anniversary). I left the United Church when one of my son's SS teachers asked us not to bring him back to SS.
The journey since then has taken me to the Missionary Church of Canada, Plymouth Brethren Church, a community church, Pentecostal Church of Canada, Southern Baptist Church (which is the last church I actually joined), Mennonite Brethren Church, and MCC. My ex-wife wanted to switch churches whenever we got known or when they started to ask me to do things at the church.
Two of my sons trained as pastors. One works for a Christian College and the other is a senior pastor in his church. I would prefer not to identify them as to location or denomination as while they know and accept me, I do not wish to create any trouble for either of them.
For me, I have been influenced by places like the January retreat at Kirkridge (Pennsylvania) and books by Bishop Spong, Walter Wink, and Daniel Helminiak. I no longer believe that any one denomination has absolute truth but I believe in GOD and as a Christian I believe Christ is our model to love, accept, and be humble.